Our innovation strategies for business models, culture & communication development are fueled by a wide business trends analysis and deep socio-economic and cultural insights, which ensures the empowerment of effective brands that make a difference in the lives of their stakeholders as well as their environment.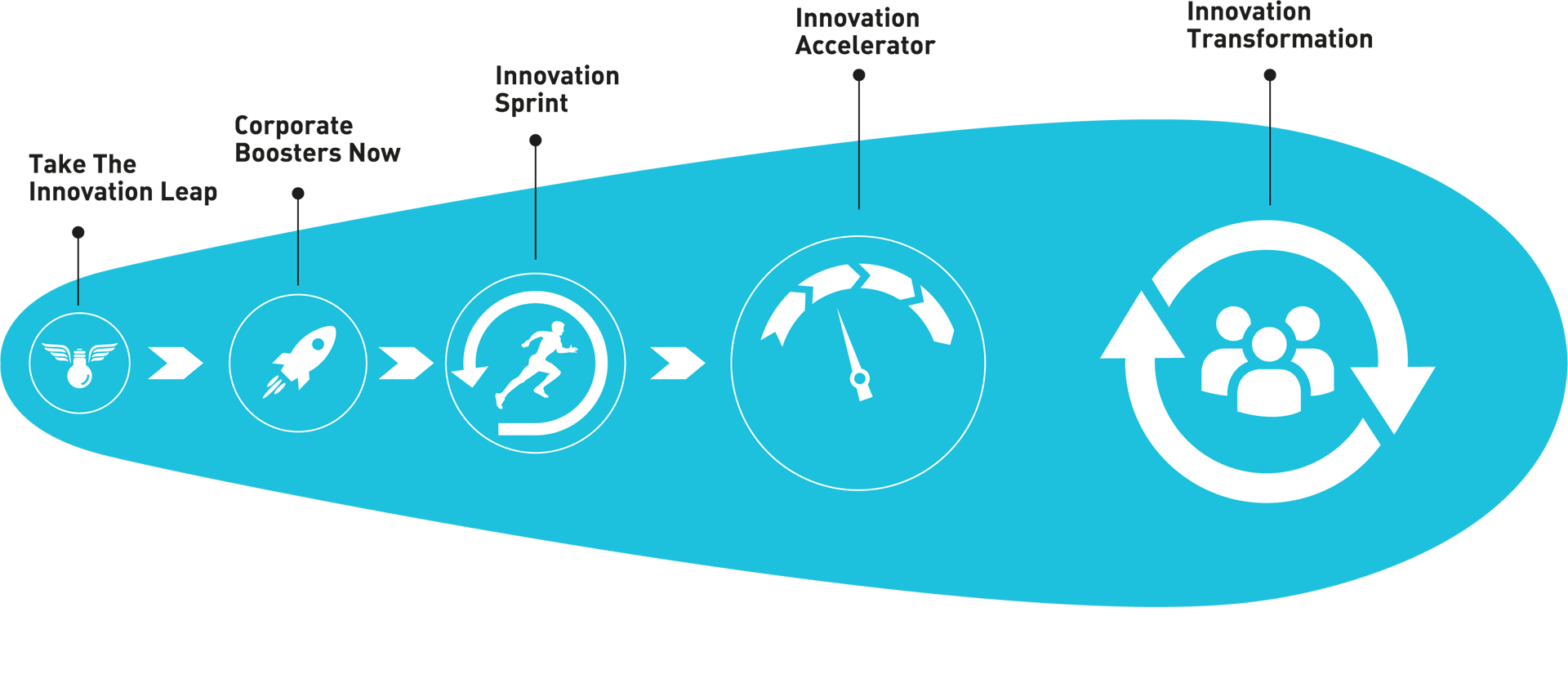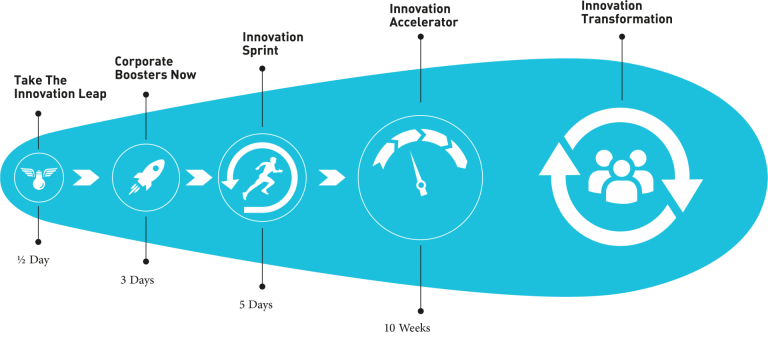 What:
Top and middle management engaged in a half-day fun and engaging innovation workshop.
Why:
Establish appreciation and understanding of the innovation process and culture, Draft a roadmap for your organization towards building innovation capability.
How:
Experience Design Thinking, Strategyzer Tools, Lean startup framework and other cutting edge methods to real life problems and reflect on the applicability to your own business.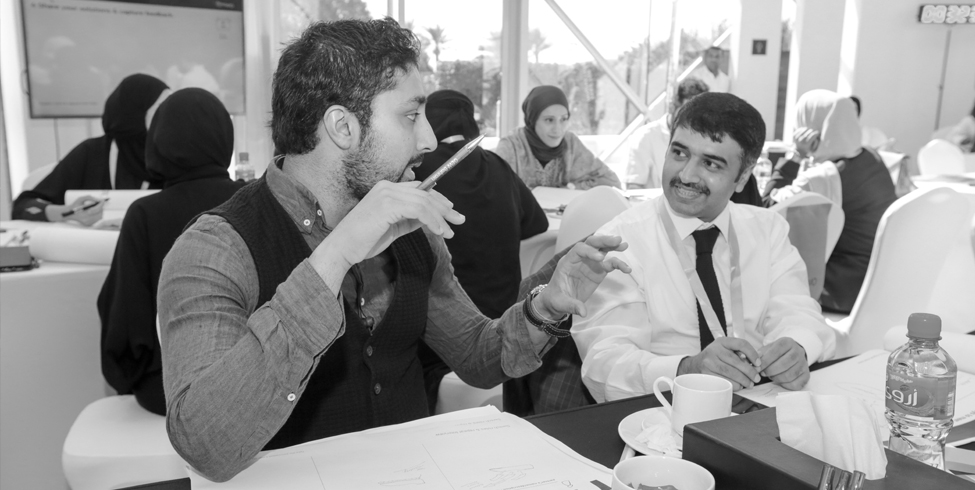 What:
Your multidisciplinary middle management team engaged in a Learn&Apply innovation marathon in two bootcamps, 3 days each:
Corporate Boosters Now – Design
Corporate Boosters Now – Execution
Why:
Learn Cutting edge innovation methods and tools and apply them in the innovation of business models, products, services and business processes. Develop, prototype and validate new business ideas that they are passionate about and bring great value to the business.
How:
Through intensive hands-on learning and coaching the teams go from ideas to prototyping through to validation.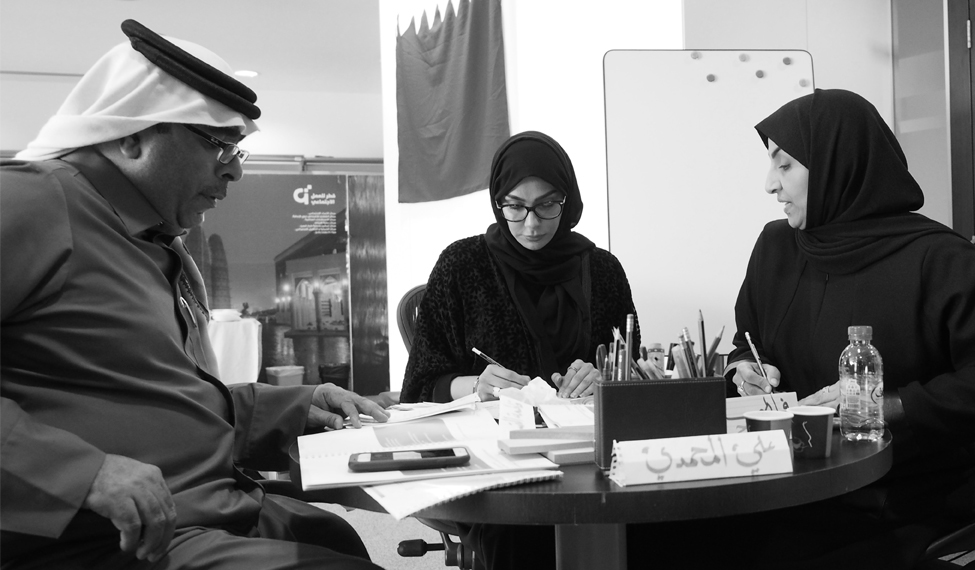 What:
A structured innovation cycle involving up to 7 team members and experts (from multi-disciplinary backgrounds), including validation with real customers.
Why:
Solve business challenges quickly and safely, such as innovating a new product or service, developing a new process or any other big hairy problem.
Tackle uncertainty and risk in the least amount of time, with the greatest amount of learning for the organization.
Challenge your team by getting them out of their daily comfort zone to drive innovation forward.
How:
Structured facilitation of a 5 day innovation cycle with up to 7 team members (from multi-disciplinary backgrounds) deep diving into a specific topic by prototyping and validation.
Day 1: Framing – Define the Challenge
Day 2: Ideation – Come up with multiple competing solutions
Day 3: Filtering – Choose the best solution
Day 4: Prototyping – Build a basic prototype
Day 5: Testing – Test your prototype on your target market
What:
An internal corporate accelerator program that focuses on innovating solutions for mid- to long-term opportunities, while incorporating new internal mindset, methodologies and capabilities. All within 10 weeks.
Why:
Creating and supporting corporate venture teams (corporate startups) who need to innovate and develop new business concepts outside of their core business, within a short period of time.
Create new growth engines while reducing risk, cost, and uncertainty
Create business models and value propositions around real customer testing and learning
Build a team of skilled practitioners
How:
A series of workshops and bootcamps, where teams set the innovation goals and scope of the accelerator and selection criteria, through ideation, prototyping, validation and pitching to investors.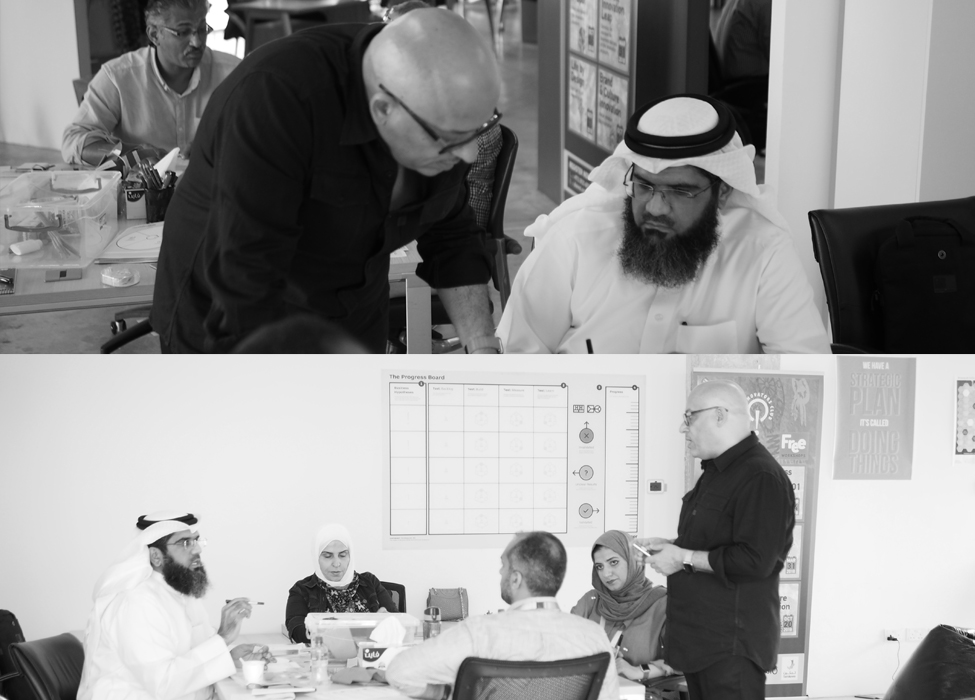 What:
A multi-year program to transform your organization into an innovation-driven one, by building sustainable, in-house innovation capability.
Why:
Maintain and boost the competitiveness and growth of your organization by becoming a source for fresh and new ideas in your sector.
Nurture unorthodox thinking and its application at all levels in your organization by developing a sustainable Innovation Culture.
How:
Using Design Thinking based consultancy we deep dive into your organization and derive a unique program to transform your organization into an innovation powerhouse.
Investigating innovation readiness
Setting long term objectives
Designing innovation transformation program
Building and coaching internal Innovation Champions
Setting up a train-the-trainer program
Developing a culture book and toolkit
Program management and coaching.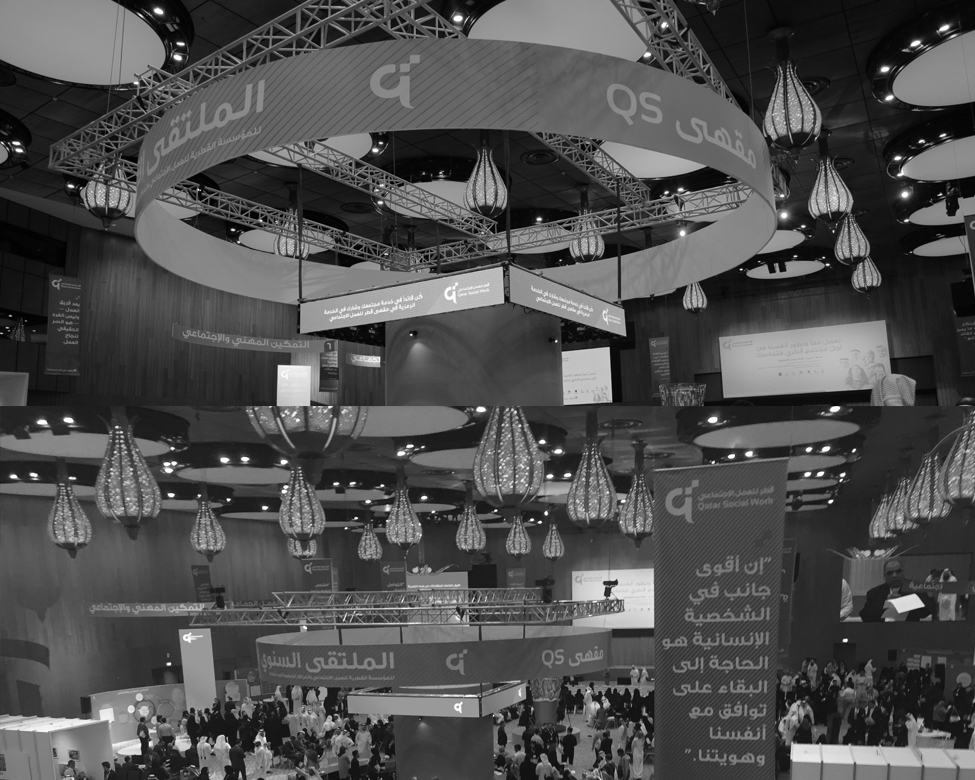 What:
Design and build a space where people can meet to get inspired and supported to articulate and co-create. An environment that allows safe experimentation and exploration to generate new ideas.
Why:
Innovation requires a safe space for a culture of exploration and experimentation to incubate.
Companies looking to reinvent themselves establish their own Silicon Valley style start-up garages, lofts and labs, that appeal to creative talent and allow a new generation of Intrepreneurs to innovate new solutions and deliver economic growth.
How:
We are a modern consultancy with design at the core of our DNA. We design a multidimensional solution that covers, not only physical space to foster innovation, but also skills, culture, processes, reward system, etc.
Mini Culture Investigation
Innovation Space Strategy
Innovation Space Design
Physical, skills, culture, processes, reward system, etc.
Innovation Space Execution
Training
Ongoing Coaching and Program Management